MOTORCYCLE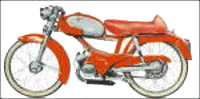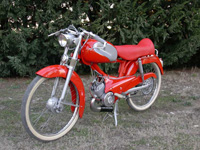 MY PEUGEOT: BB2SP
This group of photographs is of the BB2SP/BB3SP. This type of moped came out around 1958 and was all the rage with the American dependant kids living in France at the time. That's my brother Dave and me and my 1960 Sport model. Originally, the sport model had a 2-speed transmission and later was updated to a 3-speed tranny. The gear shifting was done like a Vespa scooter and the front brake was in a left-inverse angle just under the gear shift. Notice the difference in the muffler system: one is the standard below engine location while the other is extended to the rear via the right side. At the time, we could distinguish the Peugeot BB from other mopeds passing by as it had a very unique sound signature.
It was quite stylish to discard the engine covers. One picture of the BB3SP is without. I made contact with a very nice person named Olivier who lives near Paris and he assisted me in getting some parts. However, I have lost his email and physical address so Olivier, if you come across my website, please contact me.

BB2SP

Dan @ La Barre de Buxerolles 1960 Dan and Dave

Dan and Dave w/BB2SP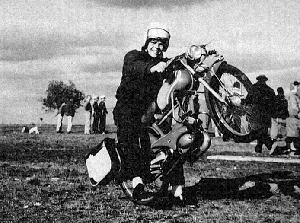 Wheelie!
This picture was taken during a football game at Poitiers Am. H.S. probably in about October of '62. My recent visit with my old friend, Denis Hill, leads me to believe that he is the one that took the picture as he stated that he has a picture with him doing a wheelie at the same place.
My BB3SP

It was 1998 and I had been corresponding with a fellow mopeder named Harald Karlson who lives in Norway. I got to dreaming about my old moped and decided that I should have another one. I began writing to anyone I could about my particular model and discovered that it was never imported to the United States. I wrote one-hundred plus emails and only discovered about three people in the world moped community that even knew about this particular bike at the time. I had all but given up when to my surprise there was an posting on one of the moped bulletin boards that was inquiring as to where a repair manual for a BB3SP could be found. I immediately responded and found that a gentleman in Canada owned it and was agreeable to sell it:..... ROAD TRIP!. I was surprised to find that it was the color white. I had never seen one of this color in the in the Poitiers area..
The first picture is the bike as I brought it home in 1998. The tires were the original type but were weather checked and needed to be replaced. I have since put on standard black tires as I haven't been able to locate the original type. I was able to get most of my parts for completion. I'm still in search of a cover-plate for the back of the seat, Peugeot lion decals for the gas tank and a front rim. The original type had no braking surface like a standard bicycle....it was more rounded. The following pictures show it cleaned-up a bit and a few of the new parts added.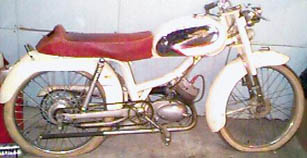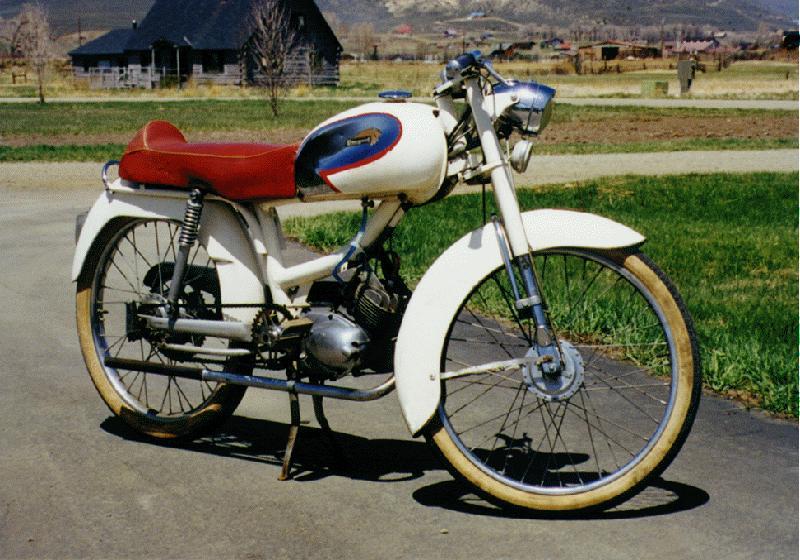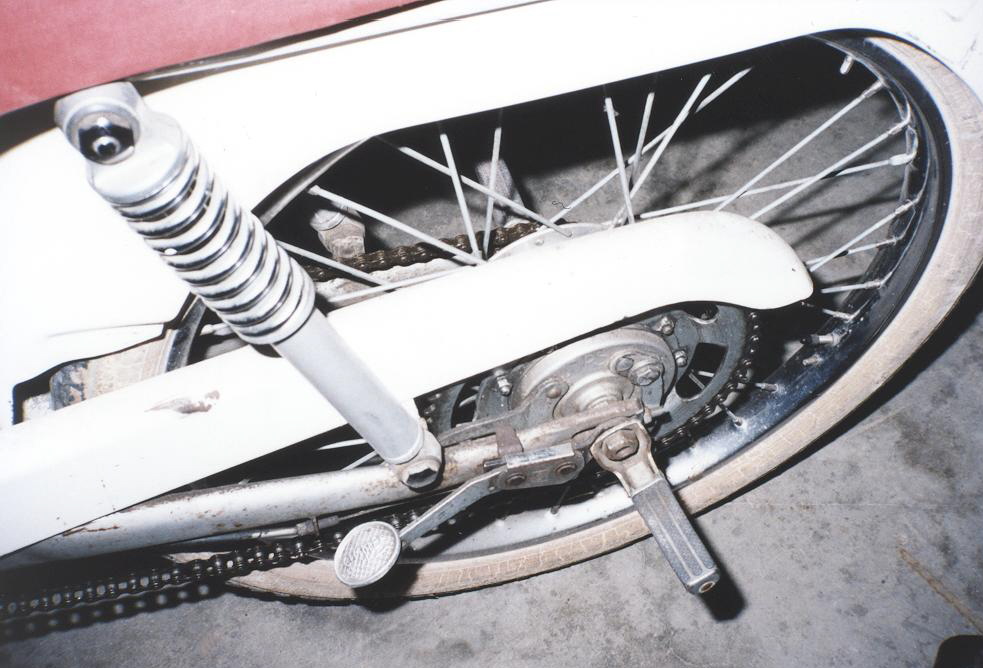 BB3SP in Gunnison Rear brake pedal (option)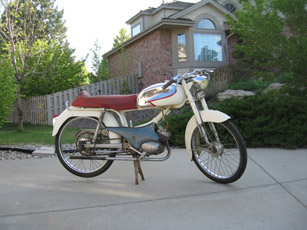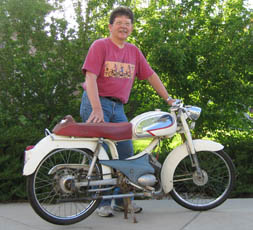 BB3SP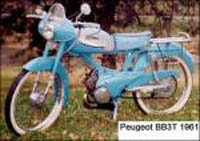 BB3T 1960 BB3T1961
I never saw this type either on the street or in the showroom of the local Peugeot dealer in Poitiers.

BB3SP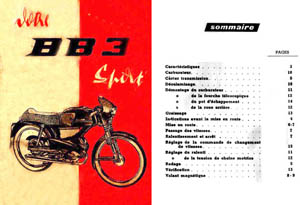 This brochure is of a later BB3SP (1963?)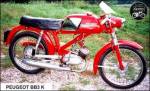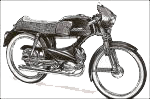 These models came out after my family returned to the U.S. and I have never had the opportunity to see one.
Another moped model that was seen around was the Monet-Guyon. My old class mate "Corky" has allowed me to post his pictures of him and his bike. It is very much in the style of the Peugeot BB2/3S. Many of these moped shared commen parts. The head/tail light of the Monet-Guyon is identical to the Peugeot but the fenders seem to be much like the Moby-Sport. I would guess this bike to a 1958. Corky bought his in 1962 and sold it in 1964.
Corky states: " I was always jealous because you had gears and I did not." No need to be! There were a couple of Moby-Sports around Poitiers that used to beat me everytime with a centrifical clutch! I had it off the line but lost it on top-end. That led me to put a smaller sprocket on the back to gear it up. That worked for a while but it killed the engine after a bit.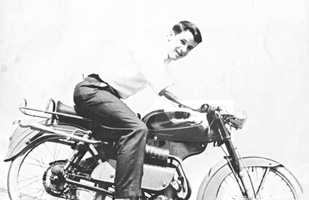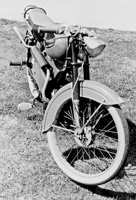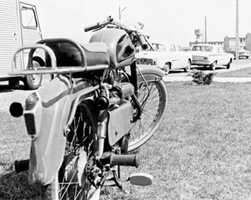 Here's an old Peugeot that I cropped from one of my mom's old pictures that just happened to be parked in the background circa 1955. The picture was taken in the Bordeaux area.
I have taken some of these pictures from the internet. If there is any dispute as to their use, I will gladly remove them. I suspect that I own one of the few, if not the only BB3SP model in the United States.
I post these pictures only for my friends' enjoyment and the advancement of the knowledge of these truely unique mopeds..
I've had the motorcycle bug for about 50 years. I can't seem to get over it all. Right after my retirement, I picked up my Suzuki Intruder and I'm quite impressed with its performance considering the pricing.